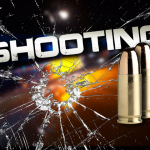 On April 26, 2023 at approximately 6:10 p.m., a Roanoke Police Officer was on routine patrol in the 1900 block of Melrose Avenue NW when she heard the sounds of gunshots from an area nearby. As the officer responded to that area, the City of Roanoke E-911 Center advised that there was a report of someone shooting at a residence in the 1600 block of Gilmer Avenue NW.
Officers responded to the house and learned that a male suspect had forced entry into the residence and began shooting into the dwelling. Individuals inside the home shot back at the suspect, who fled the scene. No injuries were reported to police at that time, and the suspect was not immediately located.
A short time later, officers were notified that an adult male with what appeared to be non-life-threatening gunshot wounds had arrived at LewisGale Medical Center via personal vehicle. Officers responded to the hospital to speak with the man. Throughout the course of the investigation, it was determined that this man was the suspect in the shooting that occurred on Gilmer Avenue NW. It was also determined that the male suspect with injuries is known to the homeowner of the residence on Gilmer Ave NW.
At this time, no one has been arrested regarding this incident.