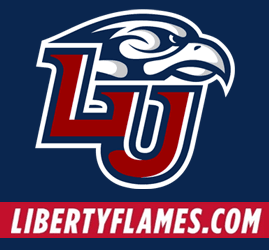 From Liberty University:  Liberty made history Friday night becoming the first team in school history to record back-to-back 20-win seasons and the Flames' 20th win came in the Big South Men's Basketball Championship semifinals over the No. 1 seed UNC Asheville. Down 12 points at halftime, Liberty was able to rally, pulling off the thrilling second-half comeback defeating the Bulldogs 69-64.
"That is a really good team (UNC Asheville) right there and we knew it was going to be tough. We got down 15 and our guys kept believing," head coach Ritchie McKay said. "Everyone that played contributed and we had a toughness about us that was significant."
After struggling in the first half offensively, Liberty (20-13) shot lights out in the second half making 56.5 percent (13-of-23) of its shots, outscoring the Bulldogs 43-26 in the latter half. To kick start the comeback with 16 minutes left in the game down 12 points (43-31), Liberty would go on an 18-9 run to come within three points of the Bulldogs' lead (52-49) with a little over eight minutes left in the game.
Continuing to scratch and claw their way towards UNC Asheville's lead, the Flames were down 56-51 with 5:58 left in the game and responded with a 15-0 run over the course of five minutes and 28 seconds to take a 66-56 lead. Caleb Homesley finished with only eight points and his biggest shot of the game came with just over one minute left in the game, nailing a three-pointer in the corner, in front of Liberty's bench to make it 62-56.
"We came into halftime struggling and coach (McKay) told us in the locker room that he believed in us," Homesley said. "We had a really good effort in the second half. We knew we had a run coming and I think the run we made late in the game was because a spirit of belief."