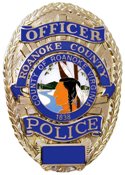 A Salem man faces multiple charges after a traffic accident, assault, stolen vehicle and police pursuit.  Roanoke County police identify the suspect as 35-year-old Justin C. Lawrence.  Police say they got a call around 4:30 p.m. Saturday for a single-vehicle accident on Catawba Valley Drive at Blacksburg Road.  Police were told Lawrence assaulted a witness to the accident before stealing another vehicle and fleeing from police on Catawba Valley Drive.  Police say the chase ended when Lawrence stopped and disabled the vehicle about 200 yards from the Appalachian Trail parking area.  A Roanoke County K-9 unit made the arrest.  Lawrence  was taken to the hospital for treatment of injuries that were not believed to be life threatening.  No one else was injured.
Police charged Lawrence with assault and battery, auto theft, leaving the scene of an accident, attempting to elude police and resisting arrest.  He also is charged with repeatedly driving on a revoked driver's license.  Police say alcohol was a factor in the incident.
Roanoke County Police Respond to Multi-Scene Incident (Roanoke County news release)
Roanoke County (Sunday, March 8, 2015) – On Saturday, March 7 at 4:29 p.m., officers from the Roanoke County Police Department were dispatched to Catawba Valley Drive at Blacksburg Road in reference to a single vehicle accident involving a 2005 Chevrolet Trailblazer.  It was later determined that the driver of the vehicle was Justin C. Lawrence, 35, of Salem.
While en route to the scene, officers were advised that Lawrence had assaulted a witness to the accident and had fled the scene on foot.  As officers arrived, they followed Lawrence's last known direction of travel.  While doing so, officers received a report that a vehicle had been stolen from the 5300 block of Keffer Road by a subject matching Lawrence's description.
Officers on scene observed the stolen vehicle on Catawba Valley Drive and initiated a traffic stop.  The suspect refused to stop and a short pursuit ensued.  The suspect, identified as Lawrence, stopped (disabled the vehicle) approximately 200 yards south of the Appalachian Trail parking area.  Lawrence was ordered out of the vehicle and refused to comply with multiple commands by officers on scene.  Lawrence was apprehended by a Roanoke County K-9 Unit and was taken into police custody.
Lawrence was transported to Carilion Roanoke Memorial Hospital and treated for non- life threatening injuries.  The witness to the initial accident did not sustain any injuries.
Lawrence has been charged with the following stemming from the incident:
Drive with Revoked OL    3rd or Subsequent Offense
Leaving the Scene of Crash
Assault and Battery
Grand Larceny – Vehicle
Attempt to Elude
Resisting Arrest
Lawrence was also served a warrant from Craig County for "Unauthorized Use of Vehicle" involving this incident.  Alcohol was a factor in the traffic crash.