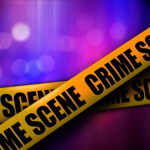 UPDATE: Salem Police say two more suspects have been arrested for an armed robbery Wednesday night that led to yesterday's police action in Roanoke County, one resulting in the closure of Route 311 in the Mason's Cove area. Police say the latest to be charged are a 16-year-old juvenile whose name is not released and 18-year-old Gabriel Haynes of Roanoke. Two others were arrested after the police action along the 3400 block of Catawba Valley Drive.
 FROM SALEM POLICE: Two additional males have been arrested in relation to an armed robbery that occurred in Salem on Wednesday night in the 1300 Block of West Main Street. Earlier this Friday, Salem Police Department Detectives arrested a 16-year-old juvenile on multiple warrants and transported him to the Roanoke Valley Juvenile Detention Center, pending his court hearing. In addition, 18-year-old Gabriel L. Haynes of Roanoke was arrested by the Roanoke County Police Department for outstanding City of Salem warrants in relation to the same robbery. Haynes is charged with two counts of Robbery, one count of Conspiracy to Commit Robbery, one count of Use of a Firearm in Commission of a Robbery, one count of Grand Larceny and two counts of Contributing to the Delinquency of a Minor. Currently, Haynes is being held at the Roanoke County/Salem jail. On January 24, at approximately 11:30 p.m., officers from the Salem Police Department responded to the 1300 block of West Main Street in reference to a reported armed robbery. The victim told officers that he knew his assailants and he provided police with descriptions and names of the individuals and their vehicle. On Thursday afternoon, Salem detectives located the suspected vehicle at a residence in the 3400 block of Catawba Valley Road in Roanoke County and determined that at least two of the suspects were inside of the residence. Salem Officers and members of the Roanoke County Police Department made multiple attempts to reach the suspects and have them exit the home, but they were unsuccessful. A short time later, the Roanoke County Emergency Response Team was able to make contact with the suspects and take them into custody without incident. Salem detectives conducted a search of the property and found evidence related to the January 24 robbery. Kenneth C. Gray, 19, of Salem and a juvenile males were taken into custody and charged with multiple offenses.
PREVIOUSLY: from Roanoke County 4:55 pm: Route 311 has been reopened. We are contacting parents of those students still at Masons Cove Elementary to make transportation arrangements.
PREVIOUSLY:  Salem City and Roanoke County Police are attempting to serve warrants at a home in the 3300 block of Catawba Valley Drive (Rt. 311). For safety reasons, police have closed Rt 311 – from Bradshaw Road to the Appalachian Trail parking lot. Parents are receiving notices about how that will impact school bus routes