UPDATE: Roanoke Police have released store surveillance video which shows the shooting. Click here to see the video.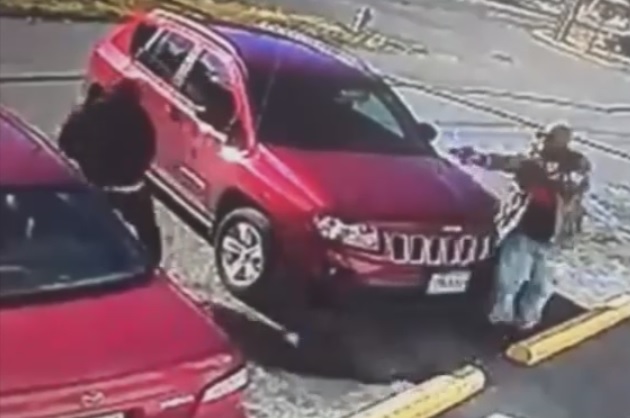 From Roanoke City Police: On January 5, 2015 at 11:30 a.m., Roanoke Police were dispatched to the 3400 block of Shenandoah Avenue NW to investigate a shooting in the parking lot of a convenience store. The victim, identified as Robert Deon Johnson, age 20, of Roanoke, was found in the parking lot and transported to Carilion Roanoke Memorial Hospital for treatment of a gunshot wound to his upper torso.
Surveillance video from the convenience store shows Johnson arrive at the store driving a vehicle. There is an acquaintance, who is a passenger in the car. Johnson enters the store with the acquaintance. As they enter the store, a newer model burgundy Jeep enters the parking lot and parks next to Johnson's vehicle. Johnson exits the store and gets in the driver's side of his car. The acquaintance exits the store shortly after Johnson and walks into the parking lot. The suspect is seen getting out of his vehicle and talking to Johnson's acquaintance.
(Continue reading for the rest of the news release.)
Johnson exits the car and can be seen on the video pointing a firearm at the suspect. The suspect pulls a firearm from his waistband area and fires shots in the direction of Johnson, with one of them striking Johnson.
The acquaintance ran away from the scene, but did return after officers arrived on scene. The suspect got back in his vehicle with his firearm, and drove away before officers arrived. Officers recovered a firearm from the scene. A person of interest has been identified. There does not appear to be any connection to the double murder on January 4th in the 3600 block of Shenandoah Avenue. No arrests have been made and the investigation is on-going. Video of the incident will be released tomorrow. Anyone with information is encouraged to call the Roanoke Valley Crime Line at 540-344-8500. Tips are anonymous and rewards are offered for the right information.