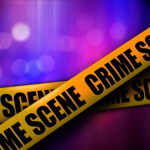 UPDATED 3:30 pm Sunday — Roanoke Police have identified the murder victim as 26-year-old Terrance Pannell of Roanoke. Police say Pannell was shot inside a resident with "at least one gunshot wound". He was pronounced dead at the scene. Police say so far, no one has been arrested for the shooting death.
PREVIOUSLY: Roanoke City Police are investigating a murder that took place early Sunday morning. Police say they were called just after 12:30 am to the 1600 block of Mercer Street NW. The department says on its Twitter Account that the victim is an adult male. Police expect to announce further details Sunday afternoon.
From Roanoke City Police: On October 15, 2017 at 12:34 a.m. Roanoke Police were dispatched to the 1600 block of Mercer Avenue NW to investigate a report of a man down with a gunshot wound. Upon arrival officers found the victim, Terrance Devon Pannell, age 26, of Roanoke inside a residence with a least one gunshot wound. Pannell was pronounced dead at the scene. Officers collected potential physical evidence from inside the residence. Officers also conducted interviews with several people familiar with the victim in an effort to establish a timeline of events before the incident. No arrests have been made at this time and the investigation is ongoing. Anyone with information is encouraged to call our tip line at 540-344-8500. Callers can choose to remain anonymous.