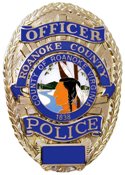 From Roanoke County Police: We have received several reports from citizens in reference to a phone scam. The caller identifies himself as a member of the Roanoke County Sheriff's Office and advises them there is a warrant out for their arrest because they failed to appear for jury duty. The subject tells them they can avoid going to jail if they can pay. The subject requires the person to stay on the line and go to a store where the victim is told to put money on a green dot card. They then get those card numbers and remove the money from the green dot card account. It is important for everyone to know that no representative from the court system or law enforcement would ever ask or take payment over the phone for anything.
(Continue reading for the rest of the news release.)
Anyone with information should call the Criminal Investigations Division of the Roanoke County Police at 540 777-8641, the Emergency Communication Center at 540 562 3265 or the Roanoke Valley Crime Line at 540 344 8500.