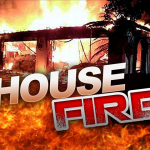 From Roanoke County Fire & Rescue – UPDATE: Fire investigators have determined the house fire on Puckett Circle was accidental in nature; however the specific cause is considered undetermined. Damage estimates are $160,000.
PREVIOUS: Roanoke County Fire and Rescue responded at about 3:10 a.m., on Monday, May 21, 2018 to the 2600 block of Puckett Circle in the Fort Lewis area of Roanoke County for the report of a residential structure fire. First arriving crews did find flames showing from the back corner window of a split-level, vinyl sided house. Two adults and one juvenile were in the house at the time of the fire but all of them made it out safely. The fire was contained to the bedroom, however, there is smoke and water damage to the rest of the house. The family has been displaced by the fire and will be staying with family in the area. One dog was safe outside the home and one cat was rescued from inside the home. There were smoke alarms present in the house but the homeowners are unsure if they were working. There were no injuries. Crews from Fort Lewis, Masons Cove, Cave Spring, and Salem responded to the fire. The fire was marked under control in about 30 minutes. The fire marshal's office is on scene to investigate a cause.
Roanoke County Fire and Rescue would like to remind everyone to please test your smoke alarms monthly. Also, have a fire escape plan and practice that plan.