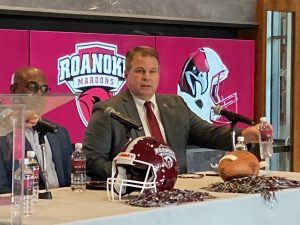 The head coach for the return of football at Roanoke College will be Bryan Stinespring — who was a fulltime member of Frank Beamer's staff from 1993 to 2015. He held a number of positions at VT with former Hokies Head Coach Frank Beamer at today's press conference to support Stinespring. Stinespring has also held jobs at the University of Delaware, and James Madison University, and then held the associate head coach job at VMI in 2022. The Maroons will play in the ODAC in 2025 after a year of club-level play next season.
A splashy hire by Roanoke College as it gets ready to bring back Division 3 college football in 2025 as a member of the Old Dominion Athletic Conference. Former long time Virginia Tech assistant coach Bryan Stinespring was announced this morning – with his former boss at Tech, Frank Beamer – looking on.  Roanoke College president Frank Sushock said having someone on board as well known as Stinespring – who also coached at several other colleges and high schools – should make it easier to fundraise in support of the new Maroons football program. Stinespring says this region is loaded with student-athletes his new Maroons staff can recruit:
Posted 11/17/23 — The head coach of Roanoke College Maroons' new football program – which begins NCAA Division III Old Dominion Athletic Conference play in 2025 – will be introduced on Monday morning during a news conference at the Cregger Center. In 2024 the program plans to play club-level football as it gears up for the ODAC in 2025. Salem Stadium will be the home field for the Maroons.