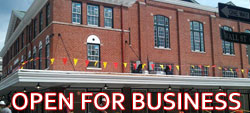 After a year-long renovation costing almost $8 million, the Roanoke City Market Building is set to reopen tomorrow. WFIR's Evan Jones has more on what to expect when you walk back inside.
[audio:http://wfirnews.com/wp-content/uploads/2011/09/09-02-Market-Wrap-WEB.mp3|titles=09-02 Market Wrap-WEB]
(Continue reading for information on reopening day ceremonies and activities.)
Here is Saturday's schedule of events as posted on the City Market Building renovation Facebook page:
10:30 am Ribbon Cutting Ceremony:
Join Mayor, David Bowers and members of City Council along with the Market Building Foundation Board President, Doug Waters and members in the ceremonious opening of our newly renovated City Market Building. The Arts Commission will present a gift to artist, Cheryl Foster who created the mosaic works at all four entrances.
11-4 pm Open House Festivities
The City Market Building will be open to the public between 11-4pm on all three levels. The public is encouraged to tour the building, meet the vendors, sample menus items, and take part in the numerous free activities through out the day including:
Meet the city market vendors, check out the new menu offerings and sample menu items.
Meet artist Cheryl Foster and sign up to make your own mosaic with Cheryl throughout the day.
Tour the building at your own pace, informative volunteers will be on hand to guide visitors and answer questions.
Tour our new community event facility, Charter Hall, with lighting, tech and AV demos throughout the day.
Sample various menu items from approved caterers for Charter Hall.
Enjoy a mini street fest on (short) Market Street including: Nelson Oliver, magician; Devine Designs, face painting; RootStone Jug Band, Stilt Walkers from Miss Kitty's Society of Wayward Cosmonauts, Cory Campbell; Singer Songwriter and more. All activities are free to the public.
7-11 pm Opening NIght! Charter Hall
Charter Hall presents Buck Cannon and the Atta Boys, Generation of Voices and Savannah Shoulders (Free, Open to Everyone).
Charter Hall premieres it's opening night with the community by presenting some of the most crowd pleasing acts this region has to offer. Join us as we celebrate the opening of Roanoke's newest event space with friends, family, community leaders and local celebrities. Buck Cannon and the Atta Boys (Crooked Road Style, Traditional Blue Grass), Generation of Voices (Gospel Choir) and Savannah Shoulders (Alternative Indie Rock). Doors open at 7pm and the music will begin at 7:30pm. This event is free and open to everyone, all are welcome. Bring your ID as there will be a cash bar available. Please enter the building along the Campbell Avenue Entrance.