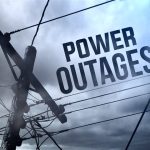 (update 11:42 am)
Situation
As expected, heavy rain and gusty winds from the remnants of Hurricane Ian caused damage in parts of Appalachian Power's Virginia service area late Friday night, which left more than 29,000 customers without electric service.
Outages
Most outages are in the company's Virginia service territory in areas east of Interstate 77. Counties most affected include Patrick (3,700 customers), Carroll (3,494), Bedford (2,659), Henry (2,248) and Botetourt (2,132).
Weather
The National Weather Service in Blacksburg, Va., expects the continuing rain could lead to flash flooding of streams and creeks, which could lead to additional outages or create difficulty accessing damaged areas.
Storm Response Efforts
Appalachian is implementing its plan to move crews from unaffected areas into areas where damage and outages occurred. Damage assessors and line workers from West Virginia are traveling to assist local crews with service restoration. Restoration estimates will be made available when the extent of damage is more completely assessed.
(update from ApCo 10:05) At the moment, we have 26,000 customers without power across our Virginia service territory. Of that number, about 2,500 are in Roanoke City and Roanoke County. A news release with updated numbers and info will be issued later this morning.
(previously) several thousand Appalachian Power customers are without power in the Roanoke area as of 9:50am today. Another 400-plus are also without power in the Blacksburg-Christiansburg area. We will update and advise on expected power reconnection as that information comes in. See a link to the ApCo power outage map below. Heavy, steady rain last night from the remnants of Hurricane Ian led to the outages.