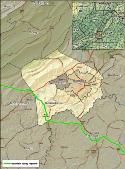 Wed., 10/8/14 9:38 a.m.
ROANOKE, Va. (AP) _ Energy companies have revised the route of a proposed natural gas pipeline that would run from West Virginia to Virginia. Media outlets report that the new route would exclude Floyd, Pulaski and Henry counties in Virginia. A portion of Roanoke County in Virginia was added to the route. EQT Corp. and NextEra Energy Inc. are teaming up on the project. The project would extend EQT's gas transmission system about 300 miles from Wetzel County, West Virginia, to another pipeline in Pittsylvania County, Virginia. EQT spokeswoman Natalie Cox tells The Roanoke Times (http://bit.ly/1v1xMpX) that the revised route will minimize the pipeline's impact to scenic areas along the Appalachian Trail and the Blue Ridge Parkway.
(Continue reading for earlier post, links and maps)
Original story: Wed., 10/8/14 5:24 a.m.
There's a major change to the Mountain Valley Pipeline project. Joey .. The 300-mile natural gas pipeline now is proposed to run through Roanoke County. The original span had the line running from West Virginia, through Giles, Montgomery, Floyd and Franklin counties, before ending in Pittsylvania County. On Tuesday, EQT Corp. announced that instead of going through Floyd, Mountain Valley Pipeline LLC wants to go through the southwest part of Roanoke County, but a route has not been finalized. Gov. Terry McAuliffe has voiced his support, but there's no word from Roanoke County officials. The company also created a website to provide more information about the project.
Click HERE for more information about the project.
Mountain Valley Pipeline Roanoke County Map
Mountain Valley Pipeline Moves Forward news release