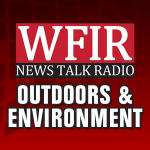 The fundraising arm of the Roanoke Outside Foundation – Project Outside – has awarded around $50,000 in grants to 10 recipients. Among other things, those funds will help purchase tools for trail building, repair a park bridge, connect more youth to the outdoors and increase parking at a public access point on the James River. This is the second release of funds from Project Outside, created during the height of the pandemic when a sharp spike in outdoor recreation use due to COVID meant more wear and tear on local amenities. Pete Eshelman is with the Roanoke Outside Foundation; he says the application process for future grants opens up gain late this year.
Project Outside grant recipients:
• Botetourt County Parks and Recreation: $7250 to expand and increase parking at the Alpine public access
point on the James River in Buchanan.
• Trees Roanoke: $1000 to remove dead and dying trees along the Roanoke River Greenway and replace
with new ones.
• Humble Hustle: $4699 to expand the Humble Hikes program and increase capacity by hiring part-time
staff to continue offering monthly outdoor programming to underserved youth.
• Blue Ridge Off-Road Cyclists: $5000 to conduct a regional trail maintenance workshop focused on
ongoing maintenance needs at Explore Park while expanding the pool of qualified volunteers throughout
the region.
• Pathfinders for Greenways: $1700 to purchase tools needed for trail building and maintenance.
• Total Action of Progress: $3563 to continue Project Discovery, an outdoor club to connect
underserved youth with the outdoors.
• Roanoke Mountain Adventures: $5250 to build a public mountain bike skills development facility along the
Roanoke River Greenway in Vic Thomas Park.
• Alleghany Highlands Trail Club: $7300 to rehabilitate 10 miles of North Mountain Trail.
• Franklin County Parks and Recreation: $9238 to replace rotten boards on a bridge in Waid Park that
spans the Pigg River.
• Roanoke Appalachian Trail Club: $5000 to repair the McAfee Knob fire road, used as a secondary
trail to/from McAfee Knob but also for rescues.
This is our time to invest in our community strength – the outdoors – to continue positioning the Roanoke
Region as a preferred place to live, work, play, and visit. Contributions can still be made at
https://www.roanokeoutside.com/project-outside/.