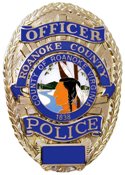 From Roanoke County Police: (July 15, 2014)—At 11:03 Monday evening, multiple calls to 9-1-1 reported a man with a handgun and shot gun or rifle had entered the first floor of the Health and Rehab Center at Friendship Retirement Community in the 300 block of Hershberger Road, where he fired a shot into the ceiling and ordered staff to get out. The suspect has been identified as Dennis Michael Wright, 59, of Roanoke City. Within two minutes, Officer P. McMillan was on scene. McMillan was directed to the upper floor where Wright had last been seen. Once there, employees said Wright had gone into the elevator and McMillan ran back to the first floor. Wright exited the elevator and crossed the lobby to the front door where McMillan caught up with him and ordered him to drop his weapons. He complied initially, then proceeded to bend to the ground, stepping towards a handgun which he retrieved and aimed towards McMillan. After an exchange of gunfire between Wright and McMillan, Wright was struck and subsequently transported to Carilion Roanoke Memorial Hospital where he is listed in stable condition. McMillan was not injured. The total number of shots fired is still being investigated.
(Continue reading for the rest of the news release.)
Warrants have been obtained for Wright, charging him with attempted capital murder of a law enforcement officer; attempted malicious wounding of a law enforcement officer; use of a firearm in commission of a felony; and two counts of shooting into an occupied dwelling. All charges are felony offenses.
The initial 9-1-1 calls reported Wright was carrying a handgun and shot gun or rifle. The long gun turned out to be a BB gun, and the handgun was a 9mm semi-automatic pistol which Wright was using during the exchange of gunfire.
The motive is still unknown but Wright does have a family member who is a patient at the retirement community. It is believed that Wright acted on his own and there were no additional assailants.
Roanoke County Police, Roanoke City Police, Virginia State Police as well as Roanoke County Fire and Rescue responded to the incident. More than 20 law enforcement units were on scene within a matter of minutes. The entire building, which holds 363 residents receiving short- and long-term rehabilitation, was secured, room-by-room, within 38 minutes.
No officers were injured, nor were residents or employees of Friendship Retirement Community.
County police are continuing their investigation. Anyone with additional information about this incident is asked to contact Sgt. J. Johnson, 777-8689.