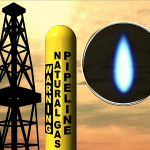 Roanoke County Police were called again to the Bent Mountain area, where a dozen or more protestors were present where trees are being cut down for the Mountain Valley Pipeline. Police say everyone was civil and report no arrests. Officials say when some tree sitters were asked to come down, they refused, but police made no efforts to remove them.
From Roanoke County Police: Roanoke County Police have been in Bent Mountain today. There were approximately 12-15 individuals present in opposition of pipeline activities. Officers described all individuals as civil, with no threats made or serious issues. Tree clearing crews were present to conduct their permitted construction activities and police ensured safety for all parties present. Police asked individuals sitting in trees to come down and they refused. No attempt was made by police to extract the individuals from the trees. Officers remained nearby to ensure the individuals were not harmed during tree felling in close proximity.
Police are, and will continue to be, in the community to ensure safety and enforce the law. Police are working with the Commonwealth's Attorney's Office to enforce any court orders and violations of law. They are not there to interpret decisions made by FERC in regards to construction activities or deadlines.