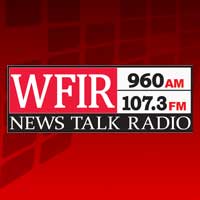 Roanoke Police say they have charged a city resident with setting fire to a vacant home overnight near Tazewell Avenue and 8th Street SE. Police say the officer who first spotted the fire then saw a man "acting suspiciously" and soon determined he was responsible for starting the fire. Police say 35-year-old William Gregory Hartwell is charged with arson and resisting arrest.
The early-morning fire destroyed a two-story house near the corner of Tazewell Avenue and 8th Street southeast.  Flames were coming through the roof when firefighters got there around 2:00 a.m.  Officials say the building was vacant–and a total loss.
Here is the full Roanoke Fire-EMS news release:
Roanoke Fire-EMS responded to a structure fire at 817 Tazewell Ave.  The call was received in the E-911 Center at approximately 1:55am and was under control at 2:50am.  Twenty-four people responded to the scene. When crews arrived they found a 2 story house fully involved engulfed in flames.  Crews began to extinguish the fire.
There was no one in the house when the fire started.  There were no injuries to civilians or Fire-EMS personnel.  The cause of the fire is under investigation at this time.  Damage estimates are approximately $15,000.
Here is the full Roanoke Police news release:
The Roanoke Fire/EMS Department sent a release regarding an arson that occurred on January 9, 2012.  The Roanoke Police Department made an arrest at the scene of the arson.  At approximately 1:54 a.m. a sergeant patrolling in the area observed smoke coming from a residence in the 800 block of Tazwell Avenue.  He then noticed an individual acting suspiciously and made contact with the individual.  Through the course of the investigation it was determined that the individual was responsible for the fire at the residence.  The individual was identified as William Gregory Hartwell, age 35 of Ronaoke.  He has been charged with arson and resisting arrest.