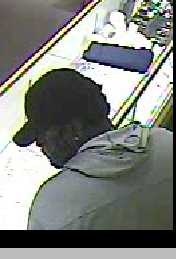 Roanoke Police say the theft of an expensive bracelet from a Valley View Mall jewelry store appears connected to similar thefts in Tennessee. Police say the one here happened on March 24th; when the suspected asked to see the bracelet, put it on his wrist, and ran off. Police say the bracelet's value is in the tens of thousands of dollars.
(Continue reading for the full police news release.)
On March 24, 2017 at 3:54 p.m. Roanoke Police were called to a jewelry store at Valley View Mall to investigate a theft. Store employees said a heavy set black male, approximately 40 to 50 years old, came in and asked to see a very expensive bracelet. The employees said he put the bracelet around his wrist and ran out of the store. He got into a newer model red Ford Explorer with beige trim and chrome rims. The value of the bracelet was in the tens of thousands of dollars. He is a suspect in similar offenses in Knoxville and Murfreesboro, Tennessee. Anyone with information can call our tip line at 540-344-8500. Callers can choose to remain anonymous. The investigation is ongoing.