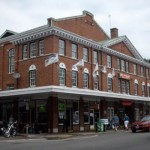 The Roanoke City Market Building is just a few weeks away from having all eight restaurants and hot food vendors up and running. The renovated building is now 81% occupied, but there are no takers for the planned inside kiosks, and as WFIR's Evan Jones reports, building managers are rethinking what to do with that space.
[audio:http://wfirnews.com/wp-content/uploads/2012/03/03-27-Market-Bldg-Wrap1-WEB.mp3|titles=03-27 Market Bldg Wrap1-WEB]
The City Market Building is now open through the dinner hour and on Sundays, a departure from the pre-renovation days. Building Manager Sara Guerry says the restaurants' success and building's success are intertwined, and one of her most important missions now is to bring people there who may not have returned since its reopening last Labor Day weekend.
Click here for the Roanoke City Market Building Facebook page.