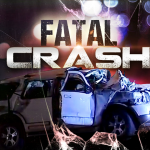 (from Virginia State Police) The crash occurred at 10:09 p.m. on Saturday, September 9
th
on Interstate 81 at the 134-mile marker.  The crash involved four passenger vehicles and one tractor trailer. A 2003 Ford Excursion was traveling south when the vehicle crossed the median and struck a 2015 Ford Expedition, a 2022 Kia and then a 2023 Nissan, causing the Excursion to roll over and catch fire.  A 2022 Mark tractor trailer then struck the Kia. The
driver of the Kia is identified as Leonard John Pick, 25, of Palm Beach Shores, FL.  Due to the damage to the Kia, it is unknown if Mr. Pick was wearing his seatbelt and he died at the scene.  There was a female passenger in the Kia which obtained life-threatening injuries and was transported to Roanoke Memorial Hospital.
The roadway was closed for an extended period of time because of the tanker trailer involved in the crash.  HAZMAT crews and VDEM were called to deal with unloading and the making safe, of the fuel and vapors contained in the trailer. 
The Virginia State Police Crash Reconstruction Team and Commercial Motor Vehicle Team are assisting with the crash.