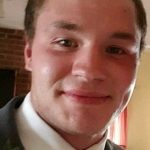 UPDATE 4/15/22: Friends and family have posted on Facebook that 29-year-old Sheldon Stacey has passed away. Police have not released a statement yet. We'll have more details when they become available.
Update 2/18 3 pm: An update for the missing 29-year-old Roanoke County man we've been telling you about. A Facebook post says Sheldon Stacey was sighted this Friday morning around the Arby's in Southeast Roanoke City. He was wearing a bright blue T-shirt, pajama pants, and black shoes – but no coat. The post says he may be acting "erratic" from a mental breakdown. Do not approach him, but call his mother or fiance at 519-6170 or contact the police for assistance. Sheldon Stacy is a white male about 6-1 and 200 pounds with a tattoo on his right forearm
Previous update – The search for a 29-year-old man missing out of Roanoke County continues on Saturday. Sheldon Stacey was last seen Monday evening on Bent Mountain. The AWARE Foundation posted that volunteers are meeting at 7632 Berganblick Lane in Roanoke tomorrow morning at 10 am.
Roanoke County Police is searching for missing 29-year-old Sheldon Lee Stacey. He was last seen by family on Monday at 5:00 pm in the area of Berganblick Lane on Bent Mountain. He is described as a white male, approximately 6 ft tall and 186 lbs. He has brown hair and green eyes. If anyone has seen a person fitting this description, please call the Roanoke County Emergency Communications Center at (540) 562-3265.