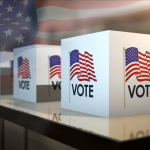 Two Roanoke elected officials won new terms in office. Long-time Commonwealth's Attorney Don Caldwell turned back a challenge from Melvin Hill to win by a 5.5-point margin. Sheriff Tim Allen easily turned back two challengers to gain a second term. Allen got almost 63 per cent of the vote.
Salem voters selected a new Sheriff and Treasurer to replace two retiring incumbents. Chief Deputy Sheriff April Staton moves to the top spot in the office, capturing nearly half the vote in a six-way race. And Danielle Crawford is Salem's next treasurer, gaining 70 per cent of the vote in her second try for the office.
Floyd County will soon have a meals tax. Voters approved a referendum empowering supervisors to enact one. In Boones Mill, voters okayed a referendum permitting the sale of mixed drinks. The effort was initiated by Franklin County Distilleries, which until now could not sell drinks at its tasting room.
A political newcomer unseated long-time Franklin County supervisor Charles Wagner in the Rocky Mount District. Mike Carter defeated Wagner by about 10 percentage points. But Boone District Supervisor Ronnie Thompson turned back a challenge from Ian Reilly to win re-election.
A former long-time Botetourt County supervisor is heading back to the board. Steve Clinton defeated Todd Dodson in the Amsterdam district, regaining the seat he previously held for 14 years.
Republicans remain in firm control of the Roanoke County Board of Supervisors. Incumbent Jason Peters easily defeated Democrat Ben Shepherd in the Vinton District. Fellow Republicans Joe McNamara and Phil North were unopposed in the Windsor Hills and Hollins Districts.
Independent Edgar Tuck is headed for the Bedford County Board of Supervisors, representing the Moneta and Huddleston areas in District Two. He won the three-way race over Democratic and Republican party opponents.
While Chris Hurst upset Joseph Yost in the New River Valley, other Republican delegates in the region had no problems winning re-election. Greg Habeeb, Chris Head, Charles Poindexter, Nick Rush and Ben Cline all coasted to easy victories.