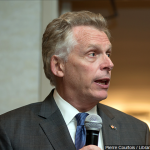 ALEXANDRIA, Va. (AP) – A federal judge has dismissed former Virginia Gov. Terry McAuliffe from a lawsuit alleging he defrauded investors in a failed electric car company.
Thirty-two Chinese investors sued McAuliffe and Greentech Automotive last year. They say they were duped into investing $500,000 each into what they thought was a viable company.
The investments were made under a federal program that let foreign nationals receive U.S. residency visas if they invest in companies that create U.S. jobs.
Greentech filed for bankruptcy earlier this year after never getting off the ground.
McAuliffe had been Greentech's chairman but resigned in 2012. His lawyers argued he was unfairly dragged into the lawsuit years after his involvement with Greentech ended.
Judge Claude Hilton's March 30 ruling concluded the lawsuit failed to sufficiently articulate claims against McAuliffe.