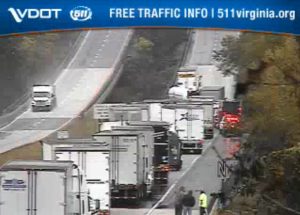 UPDATE: The accident is cleared and all lanes are open again, but the residual backups extend at least six miles and will take some time to clear.
PREVIOUS: An accident is blocking northbound Interstate 81 in the Buchanan area. A VDOT traffic camera shows northbound traffic at a standstill at the bridge over the James River. Until further notice, traffic is detoured off 81 at exit 162 and heads north on US 11 through Buchanan before rejoining the interstate. Backups before reaching that point extend for miles.
FROM VDOT: On I-81 at mile marker 165 in the County of Botetourt, motorists can expect delays due to a tractor trailer accident. All North lanes are closed.