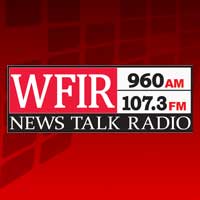 Almost three dozen rescue personnel worked through the night to bring three stranded hikers to safety in southwest Roanoke County. Heavy rains raised Bottom Creek, and rescuers from Roanoke County, Roanoke City and Salem needed hours to find them, work up a plan, and pull them up steep and rocky terrain. The hikers were brought to safety this morning more than 12 hours after the call for help came in. WFIR's Evan Jones spoke with the incident commander.
[audio:http://wfirnews.com/wp-content/uploads/2012/06/06-12-Hikers-Rescued-Wrap1-WEB1.mp3|titles=06-12 Hikers Rescued Wrap1-WEB]
(Continue reading for the full Roanoke County Fire and Rescue news release)
June 12, 2012 (ROANOKE COUNTY) –At about 8 p.m. last night, Roanoke County Fire & Rescue was called to Poor Mountain (in the Bent Mountain area of the County) to find three missing hikers.
Six hikers set out earlier in the day to hike to the Bottom Creek Gorge Trail. At about 5 p.m., three hikers (adult female and two males) returned to their meeting place and waited for the other three adult males to return. After more than three hours had passed and the three men had not returned, they called 9-1-1.
Because of very limited cell phone coverage and radio communication accessibility, it took rescue personnel about four hours to locate exactly where the three men were. Rescue crews then learned, the three had traveled along the Bottom Creek Gorge trail, then crossed the creek. Heavy rains then fell in the area causing the creek to rise significantly and become too difficult to cross back over. It would take several more hours for technical rescue crews to devise a plan as to how to safely extricate the men from one side of the creek to the other. That plan would have required significant equipment and additional personnel.
The area was researched and it was determined that there were homeowners who lived on the North side of the creek and their property could be accessed for a safer and quicker extrication. Fire officials then knocked on doors of homes in the target area early this morning to request access. They were directed to a particular property off of Patterson Drive.
Although this was an easier and safer access, it still required a ¾ mile hike with the use of rope systems to pull the victims and crew members up the steep and rocky terrain. The three men were brought to safety at about 8:30 this morning.
There were approximately 34 rescue personnel on scene, including a team from Roanoke Fire-EMS and a team from Salem Fire-EMS.
The three men were very appreciative of our efforts to rescue them. They were not injured but were dehydrated and cold. Two of the men were from out of town and one was from the Bent Mountain area.