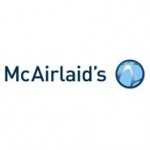 A Franklin County company is expanding, and that will mean more jobs. McAirlaid's makes absorptive materials found in hyigenic products and food packaging. The company today unveiled its 75,000 square foot expansion near Rocky Mount and says it expects to hire about 40 more workers in the near future. WFIR's Evan Jones has the story.
[audio:http://wfirnews.com/wp-content/uploads/2012/05/05-09-McAirlaids-Wrap1-WEB.mp3|titles=05-09 McAirlaids Wrap1-WEB]
Here is the full McAirlaid's news release:
McAirlaid's expands in Franklin County
Manufacturer of absorption material adds jobs, increases global output with larger high-tech manufacturing center
ROCKY MOUNT, Va. (May 9, 2012) – McAirlaid's Vliesstoffe GmbH & Co., which manufactures absorptive materials found in hygienic products and food packaging, today unveiled an expansion that will increase employment by a third in Franklin County as part of a multi-million-dollar investment.
With state dignitaries, business leaders and elected officials on hand for a ribbon-cutting and tour of the high-tech manufacturing center at The Commerce Center of Franklin County, McAirlaid's president and CEO Alexander Maksimow said the expansion will increase the company's global capacity by about a third.
"McAirlaid's found a warm welcome in Franklin County when we opened here in 2008," Maksimow said. "Now, with growing demand met by a world-class facility and outstanding employees, we are pleased to show off an expansion that will position us even better in the U.S. market."
The 75,000-square-foot expansion at the German company's only U.S. manufacturing facility and U.S. headquarters at 180 Corporate Drive increases McAirlaid's footprint to 145,000 square feet. The additional space provides for additional manufacturing equipment and storage to make products such as absorbent pads for food packaging, medical and wound care products, absorbent cores for hygiene products, materials for wiping and filtration, pet care products, and table decorations. The expansion will allow the company to reduce imports of raw materials and use U.S.-produced materials.
The company's patented airlaid, nonwoven material is made without glues, binders or synthetic material. Its proprietary machinery eviscerates pulp to create absorptive materials.
The expansion will enable McAirlaid's, currently with 120 employees, to grow to 160 jobs almost immediately.
McAirlaid's made a multi-million-dollar investment when it began operations in Franklin County in 2008. The company was founded in 1997 and also employs 250 in its two German facilities.
"As a major employer in Rocky Mount, McAirlaid's is making a highly visible impact on the community with quality jobs, an international presence and a management team that enjoys living in the region. This expansion further signifies the company's commitment to grow and prosper in Franklin County," added David Cundiff, chairman of the Franklin County Board of Supervisors. "We enjoy having McAirlaid's as part of our community and look forward to providing the support they need to flourish."
"This could not have been possible without our customers, employees, and the community leaders who welcomed and supported us enthusiastically," said Peter Gawley, U.S. president of McAirlaid's.
"McAirlaid's is the kind of company we love to see grow in the Roanoke Region," said Beth Doughty, executive director of the Roanoke Regional Partnership. " McAirlaid's has benefited from a productive, skilled workforce, low costs of doing business, and one-day transportation to two-thirds of the U.S. population."
ABOUT McAIRLAID'S
McAirlaid's Vliesstoffe GmbH & Co. is a German-based, privately held airlaid producer withproduction facilities in Rocky Mount and Berlingerode and Heiligenstadt, Germany. The company produces proprietary airlaid materials specializing in absorptive applications. With the application of the modern airlaid technology based on our proprietary patented bonding technology we can offer an airlaid non-woven, which is produced without the use of any glues or synthetic fibers. To learn more, please visit http://www.mcairlaids.net/en/company/profile/.