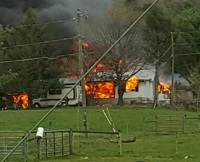 UPDATED Friday 4:05 pm: From Roanoke County Fire and Rescue: The Office of the Medical Examiner has identified a man whose body was recovered from a burned out house on Amanda Lane  as that of 49-year-old Robert Lee Hypes, Jr. Hypes lived in the house. According to the medical examiner, his death was caused by inhalation of products of combustion. Due to the amount of destruction, the cause of the fire is undetermined; however investigators believe it to be accidental in nature.
UPDATE: Roanoke County officials confirm one person died in the fire.
From Roanoke County Fire and Rescue: At about 6:45 p.m., the incident commander marked the house fire under control. The intense flames coming from a single story house did spread to an outbuilding in close proximity to the home. Flames also sparked a small brush fire that crews were were able to quickly extinguish. The patient who was transported to a local hospital was an adult male. Some crews will remain on scene to douse the hot spots. Fire investigators are beginning their work to determine what caused this fire.
Crews were dispatched to a structure fire in the 5300 block of Amanda Lane at about 5:00 p.m.  A caller reported to the  911 center that a house near his was "fully involved." When the first fire crews arrived, they entered the structure to begin their primary search of the residence.  Soon, the incident commander advised firefighters to evacuate because of a fully involved structure and unsafe conditions. Crews from the Clearbrook, Cave Spring, Back Creek and Bent Mountain Stations responded to this fire. We have transported one patient to a local hospital with what seems to be non-life threatening injuries.