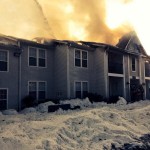 An apartment fire in Salem Friday afternoon left 41 people homeless and heavily damaged 20 apartments at 1778 Salem Commons Lane.  Four firefighters were injured.  Three received treatment at the scene and the fourth was treated at a hospital and released. 
Firefighters arriving about 3:40 p.m. found flames coming through the roof.  Officials say it took a little over an hour to contain the fire.  They were able to contain it to one building, but there was some smoke and water damage to a unit nearby.
The Salem Fire Marshal is investigating the cause and there was no immediate dollar estimate on the damages.  The Red Cross is assisting those displaced by the fire.