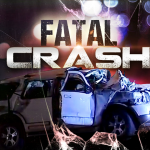 From News Release:  Virginia State Police Trooper S.R. Stagner is investigating a motor vehicle crash which resulted in a fatality.  The crash occurred Monday (May 28) on Interstate 81 southbound at the 180.4 mile marker at 12:38 p.m. in Rockbridge County.
A 2016 Peterbilt tractor trailer was traveling south on Interstate 81, when the tractor trailer made an unsafe lane change, from the right lane to the left lane and struck a 1996 Toyota 4-Runner.  The 1996 4-Runner overturned injuring two occupants.  The 2016 Peterbilt ran off the left side of the roadway and down the embankment into the trees.
The driver of the 2016 Peterbilt tractor trailer was identified as Matthew Brian Dean, 44, of Live Oak, FL.  Mr. Dean was not wearing his seatbelt and died at the scene.  The passenger, Dianna Dean was transported to the hospital with minor injuries.
The driver and the passenger of the Toyota were transported to the hospital for non-life threatening injuries.
The tractor trailer will remain in place over the embankment in the median at the request of VDOT and be removed May 29, 2018.  The Virginia State Police Crash Reconstruction Team assisted with the crash.
The crash remains under investigation.