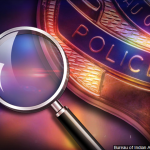 FAIRFAX, Va. (AP) _ Police in northern Virginia are looking for a teenager they consider armed and dangerous in connection with social media threats directed toward a high school.
The City of Fairfax police said in a statement Saturday that warrants were obtained for 18-year-old Ishmael O'Brien Lionel Harrison for threats to commit serious bodily harm to persons on Fairfax High School property and for possession of child pornography.
City and county police tried to serve the warrants, but couldn't find him. Police say Harrison should be considered armed and dangerous.