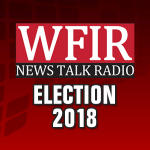 This is election day in Virginia and nationwide as Americans decide which party will control the House of Representatives for the next two years. Several Virginia seats are considered among those as candidates for "flips" to Democrats. While polls continue to project a Democratic majority come January, our political analyst says things may end up closer than those polls predict. WFIR's Evan Jones has more:
11-06 Denton-Election Wrap1-WEB
Voters in the Roanoke area will select candidates in one of three Congressional districts in the region: the 5th, 6th and 9th Districts. Voters living in the House of Delegates 8th District will also take part in a special election to fill the seat left vacant when Greg Habeeb left his position in August. Senator Tim Kaine is seeking a second term, facing a challenge from Republican Corey Stewart.  There are also two proposed amendments to the Virginia Constitution on the statewide ballot.