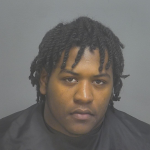 On April 12, 2023, Investigators with the Bedford County Sheriff's Office, in conjunction with the Virginia State Police and the DEA, were attempting to execute a search warrant on a vehicle operated by Najiee Turner.
While attempting a takedown of the vehicle at the Go Mart, located at 1110 East Main Street inside the town of Bedford, Turner placed the vehicle in reverse striking a Bedford County Sheriff's Office vehicle while it was occupied, and he proceeded to flee in his vehicle, almost striking another Deputy. A lengthy pursuit ensued which led Deputies through the Town of Bedford and into the County where Turner lost control of the vehicle and crashed. The pursuit ended in the area of Wyatts Way and Bethel Church Road where Turner was taken into custody without further incident.
The Bedford County Sheriff's Office located a large amount of Fentanyl pills (Approximately 6,000 with a street value of approximately $120,000.00) in the area of where the pursuit took place and Turner was charged with the following Felony Charges:
-Attempted Murder of a Law Enforcement Officer – 18.2-25/18.2-31
-Attempted Malicious Wounding of a Law Enforcement Officer – 18.2-26/18.2-51.1
-Assault and Battery on a Law Enforcement Officer – 18.2-57
-Attempt to Elude Law Enforcement – 46.2-817
-Possession with the Intent to Distribute Narcotics (Fentanyl) – 18.2-248
We also conducted another Search Warrant at Turner's residence and over $11,000 in cash was recovered and this is still an active investigation.