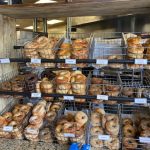 Donnie D's (now in Daleville) has been eagerly awaiting to spill the bagels!
Anyways, we are so excited and proud to announce Donnie D's #2 will be ready to go Fall 2023! I know, when I say it, it doesn't even seem real! Our little bagel shop started 5 years ago in Botetourt County and has now blossomed into a food trailer, and another store! We are also excited to serve you through our DRIVE THRU and SO much more space for family and friends to come in and sit down! I'm sure everyone is wondering where the location is. . . . DRUM ROLL, PLEASE!
HELLO ROANOKE!
3239 Brandon Ave SW VA 24018 We are thankful to be moving into such a wonderful staple once known to Roanoke, The Ralph Via Hardware Store! There is a lot of work to be done, but please share this post to get the word out!
We love all of our customers and are so excited for our next journey! ROANOKE HERE WE COME!