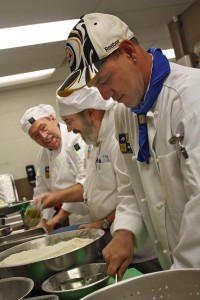 Some of the region's professional chefs like a good challenge, and they have no problem finding one in charitable kitchens like the Roanoke Rescue Mission. They prepared about 400 dinners last night, and as WFIR's Evan Jones reports, many chefs relish the opportunity.
[audio:http://wfirnews.com/wp-content/uploads/2012/04/04-06-Culinary-Wrap1-WEB.mp3|titles=04-06 Culinary Wrap1-WEB]
The volunteer chefs are members of the American Culinary Foundation — chefs and culinary students.  This is the third meal they have prepared this year at the Rescue Mission.