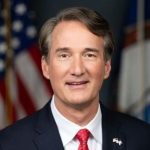 RICHMOND, Va. (AP) — A coalition that includes influential business and advocacy groups wrote this week to Virginia lawmakers and Gov. Glenn Youngkin, asking them to take action to fill two long-running vacancies on the state's powerful regulatory panel that oversees interests ranging from utilities to insurance.
Members of the Virginia Ratepayer Protection Alliance, including Google, Shell Energy, Kroger and Amazon Web Services, wrote Wednesday that the General Assembly's failure to fill two of the three spots on the State Corporation Commission is "short-changing" Virginia's citizens.
"These Commissioner seats have been vacant for too long," the group wrote in the letter, which was shared with The Associated Press. "While the SCC's highly professional staff is ensuring the Commission continues to fulfill its statutory and constitutional responsibilities, the General Assembly is short-changing the citizens of the Commonwealth by not electing judges for two successive sessions. This is unacceptable and must come to an end with an election of two qualified professionals to the Commission."
The SCC's purview includes the regulation of utilities, insurance, state-chartered financial institutions, railroads, business filings and other matters. It typically generates the most headlines for its decisions in electric utility cases, like its ongoing oversight of the implementation of the Virginia Clean Economy Act, a sweeping 2020 law that mandates a transition by electric utilities over several decades to renewable energy.