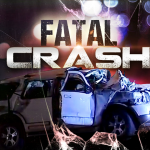 From Montgomery County Sheriff's Office: On April 17th at approx 1345 units responded for a motor vehicle crash on Jennelle Rd near the intersection of Rocky Acres Rd.
Preliminary investigation by deputies showed that a 2001 Mazda Miata, operated by David Bryan Smith age 60 of Christiansburg, ran off of the roadway and overturned multiple times down an embankment.  Members from Blacksburg Fire and Rescue were able to pronounce the driver who was ejected from the vehicle, deceased at the scene.
It is believed that speed was a contributing factor, however the crash is still under investigation.