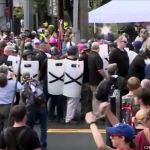 CHARLOTTESVILLE, Va. (AP) – A court has dismissed a perjury charge against the chief organizer of a deadly white nationalist rally.
The Daily Progress reports the charge stemmed from Jason Kessler's sworn statement that he was assaulted by a Charlottesville man in January 2017, months before the ill-fated rally. Judge Cheryl Higgins agreed with the defense that the prosecution did not show where the crime took place.
Last April, Kessler pleaded guilty to assaulting the man he accused.
Outside the courthouse, Kessler accused Commonwealth's Attorney Robert Tracci of "trying to do a political hit job," noting that the perjury charge was brought in September, a month after the Charlottesville rally during which a woman was killed by a car that plowed into a group of counterprotesters.
Tracci said he was disappointed by Higgins' ruling.