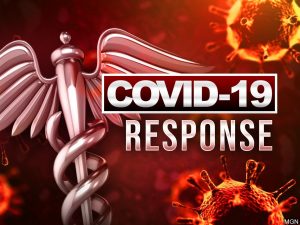 APRIL 1 UPDATE: The coronavirus death toll in Virginia has reached 34 , and total number of cases has jumped by more than 200, hitting 1,484.
MARCH 31 UPDATE; Virginia's coronavirus death toll has increased to 27 and the number of cases statewide has reached 1,250. State health officials say the number of hospitalizations stands at 165. Governor Northam has ordered Virginia residents to remain at home as the state takes new steps in efforts to limit the spread of COVID-19. The order permits you to leave home for any number of services and purposes including food, banking, medical attention and exercise.
MARCH 30 UPDATE: The number of COVID-19 cases in Virginia now tops 1,000. As of Monday morning, the Virginia Department of Health reports 1,020 confirmed cases and 25 deaths. The Roanoke region's number is rising as well: the department's web site lists six cases in Roanoke City, five in Botetourt County, five in Franklin County, two in Roanoke County, two in Bedford County and one in Montgomery County.
March 28 Update: The latest information from the Virginia Department of Health shows more than 9,100 people have been tested in Virginia. Total cases are at 739 while 99 have been hospitalized. Death toll is at 17.
MARCH 27 UPDATE: As of 10:00 am, the number of confirmed COVID-19 cases in the state jumped more than 100 from yesterday to 604 in all. The Virginia Department of Health also says 83 people have required hospitalization to date; there have been 14 deaths attributed to the coronavirus so far. Virginia's population centers remain the state's hotspots: Fairfax County alone reports 124 confirmed cases, and there are more than 100 in Hampton Roads.
In the Roanoke area, there are one each in Roanoke City and County, Botetourt County and Franklin County. There are two reported cases in Bedford County.
MARCH 23 UPDATE: RICHMOND, Va. (AP) — Virginia public schools will remain closed for the rest of the current school year and certain types of businesses, like bowling alleys, gyms and theaters, must close in response to the coronavirus outbreak, Gov. Ralph Northam said Monday.
Northam's order would not apply to businesses deemed essential, including grocery stores, pharmacies, banks and gas stations. State-owned liquor stores will also remain open.
"I know that the next several weeks, the next several months, will be difficult. They will require everyone to change the way that we live, the way we interact with each other," the governor said.
Northam, who is a doctor, said the closures were necessary to slow the spread of the virus and ensure that the health care system can keep up. As of Monday, there were 254 confirmed cases and six virus-related deaths in Virginia, according to the state health department.
The virus causes only minor flu-like symptoms in most people, who recover in a matter of weeks. But it is highly contagious and can cause severe illness or death in some, particularly the elderly and those with underlying health problems. Severe cases are often only able to breathe with respirators.
The governor had previously ordered a two-week school closure, which was set to end at the end of this week. Many school districts in the state have previously said they will be closed until at least mid-April.
The latest state numbers now have 254 confirmed COVID-19 cases across Virginia. That is an increase of 35 from Sunday's number. There are six fatalities.
FRIDAY UPDATE: There are now 114 confirmed coronoavirus cases now across Virginia. Health officials expect the number to grow as more test results come in. With one case now reported from Botetourt County, every Health Department region in the state now has at least one.
THURSDAY EVENING UPDATE: The Roanoke region has its first confirmed Coronavirus case. Carilion Clinic reports it is an elderly patient admitted Monday with symptoms consistent with the virus. Test results came back today. The patient lives in Botetourt County.
THURSDAY UPDATE: The Virginia Department of Health now shows 94 confirmed coronavirus cases across the state; that is an increase of 17 in one day. The greatest concentration continues to be in the Washington suburbs and the Williamsburg-Newport News area. There are still no confirmed cases in the Roanoke and Lynchburg areas,  but health officials caution that results from many tests taken have not yet returned from the CDC. The number of coronavirus-related deaths in Virginia remains at two.
WEDNESDAY UPDATE: Governor Northam's administration says as of late Wednesday morning, there are now 77 confirmed coronavirus cases in Virginia, up 10 from yesterday. None are in the Virginia Department of Health's Southwest Region, which includes the Roanoke and and Lynchburg areas. There are no additional deaths reported, keeping the state's number at two.
PREVIOUS: Governor Northam says Virginia is adopting federal guidelines announced yesterday — and limiting gatherings in the state to no more than 10 people.
Northam urges all restaurants to provide takeout service only — and employees impacted by state-mandated closures will be immediately eligible for unemployment compensation. It comes as the number of coronavirus cases in the state climbs to 67 — none of them in the Roanoke and Lynchburg region.
The governor has ordered all DMV offices to close until further notice, but the agency's on-line processes will continue.
—
RICHMOND, Va. (AP) — Restaurants, gyms, and theaters in Virginia will not serve more than 10 customers at a time under an order the governor issued Tuesday in response to the coronavirus.
Gov. Ralph Northam also urged Virginians to comply with new federal guidelines not to gather in groups of more than 10 and for people older than 65 to self-quarantine.
Several other states and cities have ordered restaurants and bars to close, which Northam said he did not favor. Speaking at a Capitol news conference, he said Virginians get about half their meals from restaurants and an outright ban would be harmful. He also said he hoped that Virginians would voluntarily comply with the new measures.
"I'm much more about carrots than I am about sticks," Northam said. "Hopefully we get to the point where we don't have to do a lot of enforcement."
Northam's announcement came a day after the White House released a series of sweeping guidelines that for the next 15 days will temporarily rewrite the norms of American society. They include the recommendation not to gather in groups of more than 10 people and that discretionary travel and social visits should be avoided.
The governor had previously banned all public gatherings of more than 100 people and ordered schools closed for two weeks.
Many restaurant owners in Richmond had already decided to shut down, even before the new restrictions announced by Northam.
Liz Kincaid, co-owner of four restaurants in Richmond, closed them all on Monday. She said business at the restaurants was way down last week amid coronavirus fears, and employees were growing increasingly concerned about potential exposure to the virus.
"It's a pretty sad moment right now," she said Tuesday. "It was an extremely difficult decision. A lot of our staff have been with us for a long time __ for years __ and I just hope they understand. … We felt it would be socially irresponsible to stay open at this point."
The YMCA announced Tuesday that it will temporarily close all of its facilities in the Richmond area. Tim Joyce, president and chief executive officer of the YMCA of Greater Richmond, said the closings are being done in an attempt to help "flatten the curve," the phrase used to describe efforts to slow the spread of the virus so the healthcare system does not get overwhelmed.
"These are unprecedented times unlike any we have been through," Joyce said in a statement.
Northam said the state would waive a one-week waiting period for people seeking unemployment benefits and expand eligibility to certain workers affected by business closings.
The governor also asked younger people to take precautions to avoid spreading the virus to others.
"Do not go to St. Patrick's Day parties tonight. If you do, you are literally putting others at risk," Northam said.
The governor said he was also ordering the temporary closure of Department of Motor Vehicle offices around the state.
As of Tuesday afternoon, Virginia had 67 cases of the virus, up from 51 the day before. That includes the first known instance of someone at a long-term care facility testing positive for the virus.
"This is very concerning," State Health Commissioner Dr. Norman Oliver said.
He said the state was actively investigating the case and working with the nursing home to isolate the patient so the virus doesn't spread to others at the facility.