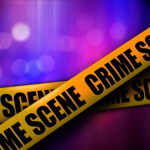 Roanoke Police have charged a 27-year-old city resident with setting fire overnight to the Little Caesar's Pizza on Brandon Avenue near Towers Shopping Center. Police say once breaking in, Kurt Davis set fire to pizza boxes, causing extensive fire and smoke damage inside. Officials say surveillance video helped them find Davis today inside a public restroom at Towers.
(Roanoke City Police release) On February 13 at 1:16 a.m. Roanoke Fire EMS and Roanoke Police responded to 911 calls for the report of a fire inside the Little Caesars business in the 700 block of Brandon Avenue S.W. Evidence indicates that a suspect gained entry to the business by breaking out a side window and climbing in. Once inside, the suspect set numerous cardboard pizza boxes on fire causing extensive fire and smoke damage to the interior of the business. The Fire Department extinguished the fire. Damage estimates to the building are not finalized at this time. At 2:11 a.m. Roanoke Fire EMS personnel were leaving the Little Caesars scene when they observed a small vehicle fire in the 1000 block of 23rd Street S.W. This is a short distance from Little Caesars. The vehicle, a 2003 Chevrolet van, had a cloth placed into the gas tank and the cloth set on fire. The van sustained minor damage from the fire.
Investigating officers were able to obtain video footage of the suspect from internal video surveillance cameras at Little Caesars. Patrol officers, detectives, and fire personnel worked throughout the morning in an attempt to locate the suspect based on his physical and clothing description. Officers located the suspect inside a public restroom at Towers Mall. The suspect was interviewed by detectives at the Police Department. Kurt James Davis, age 27 of Roanoke, has been charged with Breaking and Entering and Arson for the Little Caesars incident and Arson for the fire associated with the van. He is being held without bond at the Roanoke City Jail.