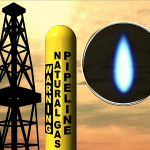 NORFOLK, Va. (AP) — The U.S. Army Corps of Engineers has suspended a permit the Mountain Valley Pipeline needs to cross Virginia waterways. The Corps' Norfolk district sent a letter Friday to the company developing the pipeline, saying it was putting the permit on hold because of uncertainty following a federal court ruling earlier this week.
That ruling from the 4th U.S. Circuit Court of Appeals tossed a water-crossings permit issued by a West Virginia district of the Corps. Environmental groups have since asked federal regulators to halt all construction activity on the $4.6 billion project. The letter says the Norfolk District finds it appropriate to "await clarity."
Developers are aiming to finish the project by the fourth quarter of 2019. A series of court challenges from environmental groups have led to previous delays.