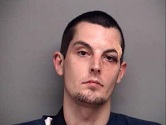 A Martinsville man is facing several felony and misdemeanor charges after leading Henry County deputies on a 20-mile chase through the Collinsville area. The Sheriff's Office says John Richardson drove off yesterday afternoon shortly after reports he was armed with two guns and making suicidal threats. Richardson eventually lost control of his vehicle and came to a stop while fleeing authorities. He was arrested after a brief struggle and is jailed without bond. No injuries are reported.
Continue reading for the full news release
From The Henry County Sheriff's Office: On November 28, 2016 at approximately 12:30pm, the Martinsville-Henry County 9-1-1 center received a call advising that John Adam Richardson was armed with 2 handguns and had been making suicidal threats. He left the area of Woodhaven Rd. driving a 2008 Blue Ford Focus.
At 12:49pm, a deputy from the Henry County Sheriff's Office observed the Ford Focus in the parking lot of the Liberty Mart convenience store located on Liberty St. The deputy made contact with Richardson who then got into the Ford Focus and fled at a high rate of speed. The deputy attempted to conduct a traffic stop on the vehicle and Richardson refused to pull over. This resulted in a pursuit that lasted approximately 20 miles through the Collinsville area of Henry County and the City of Martinsville.
The suspect made a series of turns that resulted in traveling North on Virginia Ave., upon reaching the 1700 block of Virginia Ave., a sheriff's office deputy utilized a Precision Immobilization Technique (PIT Maneuver) causing the suspect to lose control of his vehicle and come to a stop in Virginia Ave. The pursuing deputies, Richardson nor any citizens were injured as a result of the PIT.
After his vehicle was stopped, Richardson was found to be armed with both handguns and refused to put them down. After a brief struggle, deputies were able to remove the firearms from his possession and he was taken into custody. It was later reported that the car he was driving was stolen.
The driver, John Adam Richardson 31, of 263 Woodhaven Rd., Martinsville, VA was charged with Felony Elude Law Enforcement (felony), 6 counts of Assault & Battery on Law Enforcement Officer (felony), Grand Larceny (felony), Brandishing a Firearm (misdemeanor), Possession of a Concealed Weapon (misdemeanor) and Driving While Suspended (misdemeanor). He was jailed without bond.
Anyone having information pertaining to this incident is asked to contact the Henry County Sheriff's Office at (276) 638-8751 or the Crimestoppers Program at 63-CRIME (632-7463).  The Crimestoppers Program offers rewards up to $2500.00 for information related to crime.  The nature of the crime and the substance of the information determine the amount of reward paid.