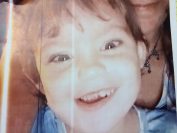 UPDATE: Virginia State Police have cancelled the Amber Alert. Authorities say both the child and abductor have been located.
EARLIER: Virginia State Police have issued an Amber Alert out of Charlotte County for a missing 4-year-old girl. Police say they have been looking for Annabelle Richardson since last week and believe she may have been taken by Dylan Richardson.  They could be traveling in a Chevy burgundy van with license plate VMG2332 toward New Jeresy. Authorities believe she is in extreme danger.
Full details can be found here
Continue reading for the full press release
CALL 4345425141 OR 911 IF SEEN|1995 BURGANDY CHEVY VAN VMG2332 VA|Last
seen 400 THOMAS JEFFERSON HWY CHARLOTTE|U/M,24YR,5'10,140LB,BLUE
EYES,BROWN HAIR,DYLAN JAMES RICHARDSON|U/F,4YR,3'00,022LB,GREEN
EYES,BLOND HAIR,ANNABELLE DORETHA HOPE RICHARDSON
THE VIRGINIA STATE POLICE AND VIRGINIA MISSING CHILDREN CLEARINGHOUSE
HAVE ISSUED AN AMBER ALERT FOR A CHILD ABDUCTION ON BEHALF OF THE
CHARLOTTE COUNTY SHERIFF DEPT IN CHARLOTTE ON 11/09/2016 AT 05:00 PM.
THE CHARLOTTE COUNTY SHERIFF DEPT IS LOOKING FOR ANNABELLE DORETHA HOPE
RICHARDSON, CAUCASIAN, female, AGE 4 years old, HEIGHT 3 feet 00 inches,
WEIGHT 022 lbs, WITH GREEN  EYES AND SHORT BLOND HAIR.
THE CHILD IS BELIEVED TO BE IN EXTREME DANGER AND WAS LAST SEEN AT 400
THOMAS JEFFERSON HWY, CHARLOTTE, VA.
THE CHILD IS LIKELY ABDUCTED BY DYLAN JAMES RICHARDSON, CAUCASIAN, male,
AGE 24 years old, HEIGHT 5 feet 10 inches, WEIGHT 140 lbs, WITH BLUE
EYES AND BROWN HAIR.
THEY MAY BE TRAVELING IN A 1995 BURGANDY CHEVY VAN, LICENSE VMG2332, VA,
NORTH TOWARD NEW JERSEY.
PLEASE CONTACT THE CHARLOTTE COUNTY SHERIFF DEPT AT (434)542-5141 OR THE
VIRGINIA STATE POLICE AT 1-800-822-4453 (1-800-VACHILD).