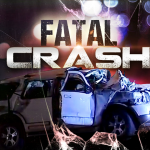 From Virginia State Police: Virginia State Police Senior Trooper T.W. Flight is investigating a single vehicle crash which resulted in a fatality.  The crash occurred Wednesday, (Jun 27), at 3:36 p.m. on Route 8, (Riner Road), one tenth of a mile north of Childress Road in Montgomery County.
A 2007 Buick Lucerne was traveling south on Route 8, when the vehicle ran off the right side of the roadway, overturning several times, ejecting the driver.
The driver of the Buick was identified as Mary Jane Trope, 85, of Riner, Va.  Ms. Trope was not wearing her seatbelt and died at the scene.
The crash remains under investigation.