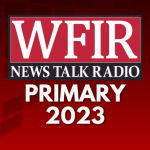 Update: Trish White-Boyd will win her race for the Democratic nomination for the District 4 State Senate seat, with 94% of the vote counted (as of 9:50pm) ahead of fellow Roanoke City Council member Luke Priddy (by 19%) and DeAnthony Pierce. White-Boyd will face off against Republican State Senator David Suetterlein in this new district in November.
Incumbent Catawba District Roanoke County supervisor Martha Hooker beat GOP challenger Thomas McCracken handily in their primary. Michael Galliher has topped Rhonda Perdue, a long time employee in the department, for the Republican nomination for Clerk of Court in Roanoke County.
In House of Delegates District 39 William Davis beat Ron Jefferson by a wide margin for the GOP nomination. In District 47, a race between two GOP incumbents now in the same district after the 2020 census redistricting, Wren Williams doubled up the total number of votes versus Marie March.
In Botetourt County-Blue Ridge District Republican primary challenger Walter Michael is leading incumbent Billy Martin by 16% with 67% of the vote in as of 9:50pm. Meanwhile Valley District incumbent Donald "Mac" Scothorn is on his way to besting Republican challenger Robert Young with ease.