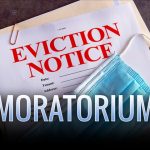 NORFOLK, Va. (AP) — A federal freeze on most evictions enacted last year is scheduled to expire Saturday [today], after President Joe Biden's administration extended the original date by a month. The moratorium, put in place by the U.S. Centers for Disease Control and Prevention in September, was the only tool keeping millions of tenants in their homes. Many of them lost jobs during the coronavirus pandemic and had fallen months behind on their rent.
Landlords successfully challenged the order in court, arguing they also had bills to pay. They pointed out that tenants could access nearly $47 billion in federal money set aside to help pay rents and related expenses.
Advocates for tenants said the distribution of the money had been slow and that more time was needed to distribute it and repay landlords. Without an extension, they feared a spike in evictions and lawsuits seeking to boot out tenants who were behind on their rents.
Virginia's Rent Relief Program helps tenants suffering financial hardship from the pandemic. Fairfax and Chesterfield Counties administer their own programs. As of July 14, more than $308 million had been paid out statewide to support more than 48,000 households, according to the Virginia Department of Housing and Community Development. Virginia and its local governments will ultimately have access to about $1 billion in funds to help renters. The state has launched an awareness campaign, while legal aid attorneys and others are offering to help tenants navigate the application process.
The state is also requiring courts to grant a 60-day continuance for an eviction proceeding when a tenant can demonstrate that their failure to pay was due to the effects of COVID-19. That protection expires at the end of September.