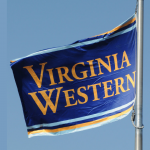 Virginia Western Community College and Radford University will sign an articulation agreement on Monday, May 1, that will result in a cost-effective transition for students focusing on the field of biotechnology.
Virginia Western students completing the Associate of Science (A.S.) degree in Science with a specialization in Biotechnology and meeting all requirements will be guaranteed admission to the Bachelor of Science (B.S.) degree in Biology program at Radford University. Virginia Western's president, Dr. Robert Sandel, and Radford's president, Dr. Bret Danilowicz, will sign the articulation agreement in an 11 a.m. ceremony in Fishburn Hall on the Virginia Western campus.
The A.S. in Science with a specialization in Biotechnology is new to Virginia Western beginning in Fall 2023. The degree program fits into the larger framework of a $15.7 million grant-funded collaboration to build a biotechnology incubator in Roanoke. Virginia Western is a partner in the project with the City of Roanoke, Carilion Clinic, Virginia Tech Corporate Research Center, Verge and Fralin Biomedical Research Institute at VTC. Virginia Western is expanding its degree and certificate programs to cultivate and support the workforce needs of the region's growing biotechnology sector, including the jobs anticipated in the lab space being developed at 1030 S. Jefferson Street in Roanoke.