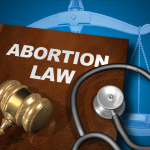 RICHMOND, Va. (AP) – A Republican-led Virginia Senate committee has voted down bills aimed at increasing access to abortion services.
The Richmond Times-Dispatch reports that the committee voted along party lines last week against legislation pushed by abortion-rights advocates.
One bill was related to abortion clinic regulations and another would have removed the requirement that rape victims file a police report before receiving an abortion funded by the state.
The committee also rejected a bill that would have eliminated a waiting period before an abortion.