Salem Police say they are treating the 11-day disappearance of a beagle puppy as a criminal matter. "Oreo" is the blue tick beagle returned home late yesterday afternoon after news media coverage brought attention to the puppy's disappearance the night of September 6th. Owner Amber White believed from the start that Oreo had been stolen from her front yard, and Salem Police say they are indeed investigating this as a criminal matter. Police say somebody turned the dog in to them yesterday but won't offer any further details on their investigation.
White put a large sign up in their yard that said, "please bring our puppy back." That, and some media attention, apparently did the trick. There's no word yet from police on where the puppy was during those 11 days. White Posted the picture below to "Lost and Found  Dogs – Virginia," along with the message, "Oreo was brought home today by animal control. Thanks to everyone for all your help."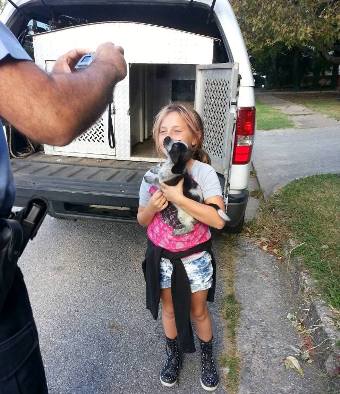 The original story, as aired Monday on the Roanoke Valley's Morning News with Joey Self:
A Salem woman has gone to unusual lengths – and widths – in efforts to find a puppy she believes was stolen from her front yard. Amber White got some paint and a 4×8 foot sheet of plywood and posted a sign at that very spot that reads: "Please bring our puppy back". It's hard to miss as you walk or drive past 7th and Delaware in Salem. WFIR's Evan Jones has the story.
 Click here for the Salem Animal Hospital Facebook information on Oreo's disappearance.