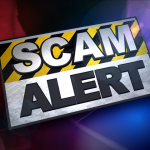 The Better Business Bureau warns that scammers are back, trying to pull a familiar fast one on homeowners — and doing so successfully even in an age of frequent warnings. It's the driveway sealing and paving scam, which starts when the scammers show up with an asphalt truck and offer a low price before doing a substandard job and taking off. The BBB says you should never go with someone who comes to your home unannounced before checking them out first. More from WFIR's Evan Jones:
From the Better Business Bureau:
BBB offers the following advice on hiring a door-to-door contractor:
Ask for identification and license/permit. A company should provide you with information, including name, address and company association on a business card and proof of solicitation permit, if required for your area. If a door-to-door solicitor is claiming to be affiliated with your utility company or someone you actually do business with, it's always best to follow up directly using verifiable contact information before providing additional information to the solicitor.
Don't feel pressured into making an immediate decision. A trustworthy company will let you take time to think about it and compare prices before committing. Some unscrupulous door-to-door contractors will put pressure on you to close the deal at that moment or lose out on a "special offer." If you find yourself in this position, end the conversation quickly.
Verify the legitimacy of the company. Research the company on bbb.org to view the company's BBB Business Profile, BBB rating, any complaints that have been filed against the company in the past 3 years, customer reviews and more. Can't find a BBB Business Profile on the company? Call BBB directly to get expert advice and information on companies in Western Virginia and across the country.
Deals that seem "too good to be true." If the quoted price seems suspiciously low, chances are the quality of the work will be low as well.
Vehicles with out-of-state license plates. These solicitations are often made by persons traveling through our local area from other states. The big equipment (pickups or trailers) will be licensed in other states.
Contact your local city or county government to see if the company is licensed to do business in your area. Many municipalities require a peddlers or solicitors license to sell door-to-door.
f you need more information, contact the BBB at (540) 342-3455 or (800) 533-5501. You can also visit www.bbb.org. Follow us on Twitter at twitter.com/BBBWesternVA and on Facebook at facebook.com/BBBWesternVA.