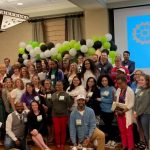 The first place winner at last night's 2023 GAUNTLET program were Mandi and Travis Hundley, owners of The Wellness Bar: Uptown in Martinsville, described as a IV hydration and vitamin lounge, designed to improve the health and wellness of the community, by focusing on individuals and their unique wellness goals. Overall more than $300,000 in cash and in-kind services were handed out to dozens of small businesses by the Advancement Foundation.
Press release:
Vinton, VA – On Thursday, May 25th, The GAUNTLET Business Program & Competition™ held the 9th Annual GAUNTLET Graduation & Awards Ceremony.  The GAUNTLET class of 2023 attracted entrepreneurs from communities across the Roanoke Valley, Shenandoah Valley, New River Valley, Southside, and Southwest Virginia.  After 10 weeks of classes, 45 businesses moved on to compete for their piece of over $300,000 in cash, grants, and in-kind prizes/services.
The GAUNTLET Business Program and Competition™ is powered by the Advancement Foundation, a nonprofit founded in 2007. The GAUNTLET program serves as a catalyst to attract our region's most talented entrepreneurs.  The support and commitment of partnering agencies, economic developers, sponsors, donors, grantors, GAUNTLET alumni, mentors, and regional innovators make the program possible. Based on a combination of their business plan and pitch competition scores and specific needs identified, the 2023 GAUNTLET competitors received over $300,000.00 in cash and in-kind awards which were generously provided by numerous local sponsors, like the GAUNTLET program's Lead Sponsor, State Farm, and many other regional sponsors and partners.