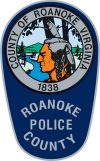 UPDATE from Roanoke County Police: Two additional charges have been placed against Evan Andrew Sarver. He is charged with Felony Hit & Run and DUI, Manslaughter.
PREVIOUSLY: Shortly after 1:00 a.m. Thursday, two people driving by called 9-1-1 after seeing a person lying on the northbound side of Williamson Road in the 8100 block. When Roanoke County Police and Fire and Rescue arrived, it was determined that the person was deceased. The apparent injuries indicated the person was struck by a vehicle. The suspect who was not at the scene at the time police arrived did return to the scene. Police questioned him and conducted field sobriety tests. He was placed under arrest for DUI, pending further charges.
The victim is 71-year old Walter Kenneth Ashley. The suspect is Evan Andrew Sarver, 22, of Roanoke County.